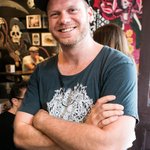 Sam Shennan
Hi I'm Sam, a graphic artist based in Redfern in the heart of Sydney's creative district.
I'm enthusiastically searching for new ideas on a daily basis to produce new, unique and interesting creations.
My artwork is an exploration of the links between ideas and concepts. I play with surrealism to discover new unseen imagery. I think of this process as tracing a mirage, where my pen is the transition between the physical world and an imagined reality.
Why do it? Nobody else can draw what is in my head.
My other passion is travel, where I observe how people react to the world differently. Many of these experiences open up new perspectives in my work.
Read more
Sam Shennan's Store
Filter