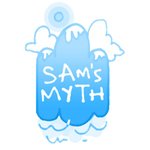 Sam's Myth
Hi! I'm Sam. I'm an artist and musician from Nashville. I play drums with Ben Folds, Tristen and My So-Called Band. When I'm off the road, I make graphic art and design posters. My work can be seen at www.samsmyth.net. Clients include The Criterion Collection, Janus Films, IFCFilms, Zeitgeist Films, Kino Lorber, Oscilloscope Laboratories, Spoke Art, Gallery1988, the Nashville Film Festival, Urban Outfitters, Proenza Schouler, Harmony Korine, Drag City, the Nashville Symphony, the Nashville Scene, and The Belcourt Theatre. Sam's Myth joined Society6 on June 9, 2010
More
Hi! I'm Sam. I'm an artist and musician from Nashville. I play drums with Ben Folds, Tristen and My So-Called Band. When I'm off the road, I make graphic art and design posters. My work can be seen at www.samsmyth.net.
Clients include The Criterion Collection, Janus Films, IFCFilms, Zeitgeist Films, Kino Lorber, Oscilloscope Laboratories, Spoke Art, Gallery1988, the Nashville Film Festival, Urban Outfitters, Proenza Schouler, Harmony Korine, Drag City, the Nashville Symphony, the Nashville Scene, and The Belcourt Theatre.
Sam's Myth joined Society6 on June 9, 2010.