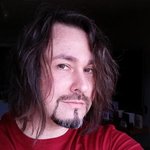 Sam Stormborn Ormandy
Sam Stormborn Ormandy, (that's me, that is) is a writer of Short Stories and Fairy Tales, (unpublished), An Artist, Illustrator, Graphic Designer and world builder of Eartheeria. I also create artwork & designs for Print on Demand products. I'm honoured to be amongst the top 100 most followed people on Google+ in the UK. Currently I'm working on building the Magical world of Eartheeria whilst also working on Alternative Enchantments. Still want to know more, read on! My artwork is mostly inspired by Fairy Tales and my design draws inspiration from Victorian London. Some of my creations can be found on products in my Zazzle stores; please follow the links to have a look! Alternative Enchantments was started in September 2012 so there isn't a great amount of my artwork online just yet, (898 products so far) however, I do have a huge quantity of artwork to be recreated for my online store which is part of my plan for 2015. By the end of next year you'll get a much better idea of my creations. My fairy tale artwork is about a wonderful world called Eartheeria. This is a magical world that I also write short stories about to go with the artwork which I plan to publish together in a book at some point in the future. My design work is very much inspired by the Victorian era. I love the look and feel of that time although I'm very glad to be living here and now. I often have photography trips to inspiring places in historical parts of London and enjoy snapping away at intriguing details including lanterns, wrought iron gates – even trees! Now you may be wondering how these two very different types of work combine? Well, this is where you have to use a little imagination. The people who live in this fairy tale world would have clothing and home decorations with many of my designs incorporated into them. The items I create are very much a close up and personal view of what these characters find appealing! If it helps, imagine me sitting at my desk with a sketchpad and pencil drawing away. To my right is a beverage coaster with a picture of a butterfly on it and on that coaster is a coffee mug with the very same butterfly. Now this is where fantasy meets reality: through typing this description, I've had the idea to put my butterfly onto a matching coffee mug and coaster set. Perfect for an afternoon tea! Please check out my Blogsite for more info about me and what I create! http://www.samstormbornormandy.com Let's Connect! Google+ https://plus.google.com/+SamStormbornOrmandy Pinterest http://www.pinterest.com/SamStormborn Twitter https://twitter.com/SamStormborn Tumblr http://samstormbornormandy.tumblr.com Facebook https://www.facebook.com/SamStormbornOrmandy Sam Stormborn Ormandy joined Society6 on October 13, 2014
More
Sam Stormborn Ormandy, (that's me, that is) is a writer of Short Stories and Fairy Tales, (unpublished), An Artist, Illustrator, Graphic Designer and world builder of Eartheeria. I also create artwork & designs for Print on Demand products. I'm honoured to be amongst the top 100 most followed people on Google+ in the UK. Currently I'm working on building the Magical world of Eartheeria whilst also working on Alternative Enchantments. Still want to know more, read on!
My artwork is mostly inspired by Fairy Tales and my design draws inspiration from Victorian London. Some of my creations can be found on products in my Zazzle stores; please follow the links to have a look! Alternative Enchantments was started in September 2012 so there isn't a great amount of my artwork online just yet, (898 products so far) however, I do have a huge quantity of artwork to be recreated for my online store which is part of my plan for 2015. By the end of next year you'll get a much better idea of my creations.
My fairy tale artwork is about a wonderful world called Eartheeria. This is a magical world that I also write short stories about to go with the artwork which I plan to publish together in a book at some point in the future.
My design work is very much inspired by the Victorian era. I love the look and feel of that time although I'm very glad to be living here and now. I often have photography trips to inspiring places in historical parts of London and enjoy snapping away at intriguing details including lanterns, wrought iron gates – even trees!
Now you may be wondering how these two very different types of work combine? Well, this is where you have to use a little imagination. The people who live in this fairy tale world would have clothing and home decorations with many of my designs incorporated into them. The items I create are very much a close up and personal view of what these characters find appealing! If it helps, imagine me sitting at my desk with a sketchpad and pencil drawing away. To my right is a beverage coaster with a picture of a butterfly on it and on that coaster is a coffee mug with the very same butterfly. Now this is where fantasy meets reality: through typing this description, I've had the idea to put my butterfly onto a matching coffee mug and coaster set. Perfect for an afternoon tea!
Please check out my Blogsite for more info about me and what I create! http://www.samstormbornormandy.com
Let's Connect! Google+ https://plus.google.com/+SamStormbornOrmandy Pinterest http://www.pinterest.com/SamStormborn Twitter https://twitter.com/SamStormborn Tumblr http://samstormbornormandy.tumblr.com Facebook https://www.facebook.com/SamStormbornOrmandy
Sam Stormborn Ormandy joined Society6 on October 13, 2014.