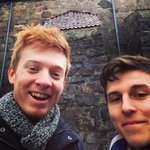 Sam Vickars*
www.i-am-s.am Hi, I'm Sam. I go to architecture school, but I'm no architect. I like to tell stories. I like to create experiences*. And I love chocolate milk. I found my first crayon when I was about two and I haven't stopped creating ever since. I eventually moved on to bigger and by no means better things, discovering Photoshop, SketchUp and AutoCAD - it was all love at first sight. I'm an easy going guy known for my great sense of humour, my intense work ethic, and my occasional foul mouth. At the moment I'm on a co-op term in my fourth year the University of Waterloo School of Architecture, living and working in London, England (thee ol' enemy). I'm having a good time travelling the world, but my mum would kill me if I didn't still go home to Vancouver for the holidays. I also do freelance projects and competition entries. In whatever spare time I can find I'm an amateur rocket ship builder, box lacrosse player, world explorer, volunteer wassailer, and I dabble in the occasional lion-taming. It's nice to finally meet you. *I'll pretty much design anything: brands, websites, books, exhibitions, subway maps. I love it. Sam Vickars* joined Society6 on April 15, 2014
More
www.i-am-s.am
Hi, I'm Sam. I go to architecture school, but I'm no architect. I like to tell stories. I like to create experiences*. And I love chocolate milk.
I found my first crayon when I was about two and I haven't stopped creating ever since. I eventually moved on to bigger and by no means better things, discovering Photoshop, SketchUp and AutoCAD - it was all love at first sight. I'm an easy going guy known for my great sense of humour, my intense work ethic, and my occasional foul mouth.
At the moment I'm on a co-op term in my fourth year the University of Waterloo School of Architecture, living and working in London, England (thee ol' enemy). I'm having a good time travelling the world, but my mum would kill me if I didn't still go home to Vancouver for the holidays.
I also do freelance projects and competition entries. In whatever spare time I can find I'm an amateur rocket ship builder, box lacrosse player, world explorer, volunteer wassailer, and I dabble in the occasional lion-taming.
It's nice to finally meet you.
*I'll pretty much design anything: brands, websites, books, exhibitions, subway maps. I love it.
Sam Vickars* joined Society6 on April 15, 2014.
Sam Vickars*'s Store
34 results
Filter