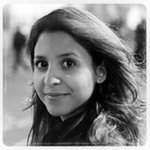 Sanaa Legdani
After studying animation, Sanaa worked in the video game industry for many years, working with art directors, game designers and other creative professionals on numerous projects. She is now a happy freelance illustrator, living in Montreal, QC, where she enjoys creating a life full of joy, art, and cats. see more of Sanaa's work at www.sanaalegdani.com Sanaa Legdani joined Society6 on December 5, 2014
More
After studying animation, Sanaa worked in the video game industry for many years, working with art directors, game designers and other creative professionals on numerous projects. She is now a happy freelance illustrator, living in Montreal, QC, where she enjoys creating a life full of joy, art, and cats.
see more of Sanaa's work at www.sanaalegdani.com
Sanaa Legdani joined Society6 on December 5, 2014.