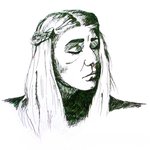 Sandra Björn
Sandra Björn, 22, Sweden Sitting on the floor. Thinking of everything and nothing in perticular. Looking around, getting around sometimes gets stuck pause and then I twist away. Reading, listening, watching and then it gets to my heart. Glitter, starry skies, globes of disco. Always overwhelmed or untuched. Time, time, the TIME. It feels, it burns, it strains. Leaving, concealing somewhere in my mind. The heart. Phantom illusion phantom delusion. The question of what is real, you know. There it is, under the skin, if you just scratch the surface, sometimes deeper down under. Fairytales, stories, worlds in relation. Things that need to get out. contact: sandrabjoerne@gmail.com Sandra Björn joined Society6 on September 3, 2013
More
Sandra Björn, 22, Sweden
Sitting on the floor. Thinking of everything and nothing in perticular. Looking around, getting around sometimes gets stuck pause and then I twist away. Reading, listening, watching and then it gets to my heart. Glitter, starry skies, globes of disco. Always overwhelmed or untuched. Time, time, the TIME. It feels, it burns, it strains. Leaving, concealing somewhere in my mind. The heart. Phantom illusion phantom delusion. The question of what is real, you know. There it is, under the skin, if you just scratch the surface, sometimes deeper down under. Fairytales, stories, worlds in relation. Things that need to get out.
contact: sandrabjoerne@gmail.com
Sandra Björn joined Society6 on September 3, 2013.
Sandra Björn's Store
11 results
Filter