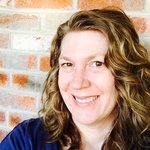 Sandra Hedicke Clark
I am a multi-disciplinary artist working in a variety of medias. I utilize printmaking, mixed-media, painting and drawing to follow wherever my creativity will lead me. I am fascinated with patterns and color as a means to express a single emotion. I find that the process of creating and the lessons I learn in problem solving to be just as valuable as the finished work. I have a small home studio in Reno, Nevada, where I create monoprints I then use as backgrounds for other works or as stand-alone pieces. Visit my blog at www.bijoubees.com Sandra Hedicke Clark joined Society6 on January 29, 2015
More
I am a multi-disciplinary artist working in a variety of medias. I utilize printmaking, mixed-media, painting and drawing to follow wherever my creativity will lead me. I am fascinated with patterns and color as a means to express a single emotion. I find that the process of creating and the lessons I learn in problem solving to be just as valuable as the finished work. I have a small home studio in Reno, Nevada, where I create monoprints I then use as backgrounds for other works or as stand-alone pieces.
Visit my blog at www.bijoubees.com
Sandra Hedicke Clark joined Society6 on January 29, 2015.