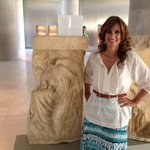 Sandra Jean Maxwell
Art makes me happy. I hope you see the happiness that radiates from my paintngs. Every brushstroke has goodwill and love. My favorite genre to paint is a scene, memory or dream of yesteryear. If I could pick a time to been born..1898 France or Italy. My art comes from deep feelings for that time period. I also paint in abstract expression. I love to let imagination take over my hand and let the brush combined with emotion, create my painting. Art! It's all about love! "Art heals all wounds" ~ Picasso Sandra Jean Maxwell joined Society6 on September 2, 2013
More
Art makes me happy. I hope you see the happiness that radiates from my paintngs. Every brushstroke has goodwill and love.
My favorite genre to paint is a scene, memory or dream of yesteryear. If I could pick a time to been born..1898 France or Italy. My art comes from deep feelings for that time period.
I also paint in abstract expression. I love to let imagination take over my hand and let the brush combined with emotion, create my painting.
Art! It's all about love!
"Art heals all wounds" ~ Picasso
Sandra Jean Maxwell joined Society6 on September 2, 2013.
Sandra Jean Maxwell's Store
102 results
Filter