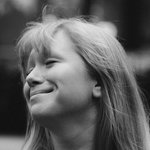 Sandra Shore
Aspiring writer and photographer pursuing a career in the arts, media and communications field. Passionate about photojournalism, portraiture photography, social media, music, literature, and law. Emotional, sincere, sentimental, living my life in a world of old books, pictures and faces. Photography is my long sought Door into Summer. An Independent Digital Photography graduate from Seneca College (Toronto, ON). Sandra Shore joined Society6 on July 23, 2013
More
Aspiring writer and photographer pursuing a career in the arts, media and communications field. Passionate about photojournalism, portraiture photography, social media, music, literature, and law. Emotional, sincere, sentimental, living my life in a world of old books, pictures and faces.
Photography is my long sought Door into Summer. An Independent Digital Photography graduate from Seneca College (Toronto, ON).
Sandra Shore joined Society6 on July 23, 2013.