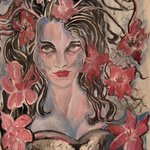 Sandy DeLuca
Sandy DeLuca is an American painter, poet and novelist.
She sold her first drawing in 1979, while the work was on display in a friend's hairdressing salon. Afterward Sandy began doing commissions, mostly of offbeat renditions of familiar cartoon characters.
She had her first solo art show in 1987 at the Community College of Rhode Island, while still a student. Each painting was accompanied by prose written on a card; pieces of the story she told with her paintings. Since then her paintings have been exhibited widely. In addition, her artwork has been featured as cover art and interior art for various publications.
Sandy has also written and published numerous novels, several poetry collections, an art chapbook and several novellas, including the critically acclaimed MESSAGES FROM THE DEAD and DESCENT. As an author she is known for dark and surreal prose; often visceral and shocking. She is best known for her work in the horror genre. However, she has written noir fiction, fantasy and mainstream fiction as well. She also penned several chants published in Silver Ravenwolf's book TO STIR A MAGYCK CAULDRON (pen name Autumn Raindancer).
She was a finalist for the BRAM STOKER for poetry award in 2001, with BURIAL PLOT IN SAGITTARIUS; accompanied by her cover art and interior illustrations. A copy is maintained in the Harris Collection of American Poetry and Plays (Brown University) Poetry, 1976-2000. She was nominated once more in 2014, with Marge Simon, for DANGEROUS DREAMS.
She has owned several publishing companies, including GODDESS OF THE BAY and DECEMBER GIRL PRESS. Presently she oversees MIDNIGHT TOWN MEDIA.
After spending a few years focusing on other projects, I am once again making an effort to sell my work online.
Read more
Sandy DeLuca's Store
Filter