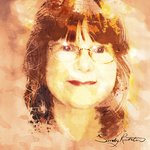 Sandy Richter Studios
I'm a visual artist specializing in digital mixed media, paintings, and photo manipulations. Commissioned artwork include custom portraits, illustrations, and other projects for both digital and print use. My work explores many genres including contemporary, figurative, abstract and fantasy. I've always had computers in my life. I started working with them in high school and have been involved with the computer world in one way or another ever since. I started out coding and network troubleshooting and over the years my work has transitioned into the graphical end of the technology spectrum. I've also had a life-long passion for photography as well — combine these elements together and you have a happy and fulfilled Digital Artist, living and working at my studio in the Ottawa Valley, in Ontario, Canada. If you would like to know more about me and what I am up to you can visit my website sandyrichter.ca were you can subscribe to my newsletter. I am currently available for commissioned work Sandy Richter Studios joined Society6 on December 4, 2016
More
I'm a visual artist specializing in digital mixed media, paintings, and photo manipulations. Commissioned artwork include custom portraits, illustrations, and other projects for both digital and print use. My work explores many genres including contemporary, figurative, abstract and fantasy.
I've always had computers in my life. I started working with them in high school and have been involved with the computer world in one way or another ever since. I started out coding and network troubleshooting and over the years my work has transitioned into the graphical end of the technology spectrum. I've also had a life-long passion for photography as well — combine these elements together and you have a happy and fulfilled Digital Artist, living and working at my studio in the Ottawa Valley, in Ontario, Canada.
If you would like to know more about me and what I am up to you can visit my website sandyrichter.ca were you can subscribe to my newsletter.
I am currently available for commissioned work
Sandy Richter Studios joined Society6 on December 4, 2016.