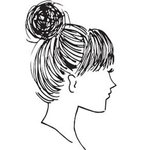 SantangeloStudio
I'm a Graphic Designer, Hand lettering Artist and Illustrator. I have always been creating, ever since I was a small child. This is my dream job. Making handmade treasures that inspire or bring a smile to someone's face. While I don't hone a particular "style", I enjoy playing with many different styles and creating handmade items with a unique spin. Throughout the years I've worked with various mediums and experimented with different avenues of design and I've found my home truly, in the art of hand lettering. SantangeloStudio joined Society6 on June 24, 2016
More
I'm a Graphic Designer, Hand lettering Artist and Illustrator. I have always been creating, ever since I was a small child.
This is my dream job. Making handmade treasures that inspire or bring a smile to someone's face. While I don't hone a particular "style", I enjoy playing with many different styles and creating handmade items with a unique spin.
Throughout the years I've worked with various mediums and experimented with different avenues of design and I've found my home truly, in the art of hand lettering.
SantangeloStudio joined Society6 on June 24, 2016.