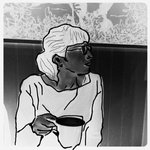 sa-ra-daelli
Print and Graphic Designer / Curator for Milan Film Festival / Illustrator Thanks to my work experiences I developed a taste for how to recognize and create eye-catching images. My aim is create contemporary and playful designs. Something that can express femininity and an eclectic taste. This is my Print Designer Portfolio: sa-ra-daelli.tumblr.com Contact me: sara.laraza.radaelli@gmail.com sa-ra-daelli joined Society6 on August 11, 2014
More
Print and Graphic Designer / Curator for Milan Film Festival / Illustrator Thanks to my work experiences I developed a taste for how to recognize and create eye-catching images. My aim is create contemporary and playful designs. Something that can express femininity and an eclectic taste.
This is my Print Designer Portfolio: sa-ra-daelli.tumblr.com
Contact me: sara.laraza.radaelli@gmail.com
sa-ra-daelli joined Society6 on August 11, 2014.