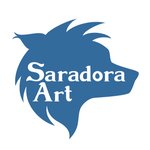 SaradoraArt
Hello and welcome! My name is Saradora and I am a hobbyist digital artist who also dabbles in arts & crafts. When I don't draw or play video games, I am an avid reader of heroic-fantasy and sci-fi books. Thanks for visiting, many thanks for buying! SaradoraArt joined Society6 on May 17, 2016
More
Hello and welcome!
My name is Saradora and I am a hobbyist digital artist who also dabbles in arts & crafts. When I don't draw or play video games, I am an avid reader of heroic-fantasy and sci-fi books.
Thanks for visiting, many thanks for buying!
SaradoraArt joined Society6 on May 17, 2016.