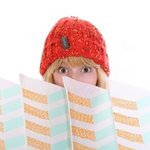 Sarah Dyer
I'm a Glasgow School of Art graduate, with a specialism in embroidered fabrics and fashion design. After I graduated, I have been working in eCommerce, developing my skills within this industry, as well as keeping creative! Travel is my greatest inspiration, so I base most of my work on absorbing architecture detail and colour, expressing this in my drawings and sketchbooks. Sarah Dyer joined Society6 on May 27, 2013
More
I'm a Glasgow School of Art graduate, with a specialism in embroidered fabrics and fashion design. After I graduated, I have been working in eCommerce, developing my skills within this industry, as well as keeping creative!
Travel is my greatest inspiration, so I base most of my work on absorbing architecture detail and colour, expressing this in my drawings and sketchbooks.
Sarah Dyer joined Society6 on May 27, 2013.