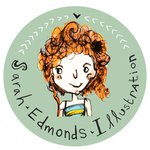 Sarah Edmonds Illustration
I am Sarah Edmonds, a Welsh illustrator and designer currently living and working in Brighton, UK. My illustration work features playful characters, puns and objects that tell stories. Colour is very important to me as is a good dose of mischief - I like to make people laugh. I delight in wordplay and puns, as well as repeat patterns that tell stories. I work from my studio in Super+Super in Brighton and also out and about, always carrying a sketchbook so I can scribble down ideas and sketches. The journey between idea and product always begins with crayons, pens and paper. I keep a scrapbook of images, colours and textures which I draw upon when creating a new design or colour palette. This ensures that the unique hand drawn quality, or handmade technique, for each image forms its foundation. My digital techniques and tweaks then enhance and develop this, rather than eclipse it. Sarah Edmonds Illustration joined Society6 on September 2, 2014
More
I am Sarah Edmonds, a Welsh illustrator and designer currently living and working in Brighton, UK.
My illustration work features playful characters, puns and objects that tell stories. Colour is very important to me as is a good dose of mischief - I like to make people laugh. I delight in wordplay and puns, as well as repeat patterns that tell stories.
I work from my studio in Super+Super in Brighton and also out and about, always carrying a sketchbook so I can scribble down ideas and sketches. The journey between idea and product always begins with crayons, pens and paper. I keep a scrapbook of images, colours and textures which I draw upon when creating a new design or colour palette. This ensures that the unique hand drawn quality, or handmade technique, for each image forms its foundation. My digital techniques and tweaks then enhance and develop this, rather than eclipse it.
Sarah Edmonds Illustration joined Society6 on September 2, 2014.
Sarah Edmonds Illustration's Store
40 results
Filter