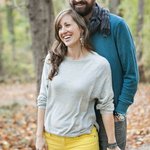 Sarah Hodzic
By trade I am a chef and photographer. After running my own catering business from 1997-2004, I traded in my chef gear for camera gear (a long time love of mine). I created my own photography company (Blink Photography - www.blinkdcc.com) in 2005 and am still shooting events nation wide. However, my artistic expression always felt a bit limited with the camera as my only tool. I once had a good friend express to me, after I found myself stumped with where to go next with my business as my energy and passion were waning, he turned to me one day and said, "Sarah you're an artist who has been using photography as her medium, but it's clear you need to keep your options open when it comes to how you want to create and express yourself." He was RIGHT! So now here we are, it's 2016 and I have ventured into the world of illustration, acrylic painting and so on. I have been taking illustration classes online, I enrolled in abstract painting and figure drawing classes through the Smithsonian Associates program, which lead me to becoming a volunteer for that amazing arts organization, and I've hitting my local library hard to try and saturate my mind with all sorts of art, art practices, and instruction. So far it's been exciting, scary, frustrating, energizing and draining, but mostly, thrilling, and I am I just getting started! The goal for my Society6 site is for this to be a place that holds me accountable to my creative practice and production. There is nothing more exciting to me than being able to share the work I create and see it in someone else's hands. Below you will find my "professional" photography bio, I've included it just for fun, thinking that it might be of some interest to see where my journey has lead me up to now. If you've read this far, you're awesome! Please know that I welcome questions, comments, thoughts, and musings! Feel free to drop me a line anytime. Thank you. Sarah Hodzic is a photographer and artist working in the Washington DC Metro area. She has been shooting professionally since 2005. Sarah's photography ranges from shooting corporate events, environmental portraiture, and weddings, to freelance photojournalism. She has provided professional photography for DC-area and national clients such as Honeywell, the Department of Heath and Human Services GLADD, NILMDTS, Operation USA, Raytheon, American University, Ventana Productions, Porter Novelli Australia, Cornell University CIPA, US-ASEAN Business Council and many other organizations. Her work has been published in books and magazines across the country, and in 2011 she had a solo show in Los Angeles from her 2010 trip to Jacmel Haiti, where she covered the ground breaking of a new school for Honeywell International. Her work has also been featured in photography shows in Mississippi, Washington DC, and San Fransisco. Sarah served as an instructor for art and photography classes from 2010 - 2015. She organized and hosted a retreat, Rebirth Workshops, in the Mississippi Delta with two other artist/photographers. The retreat, which occurred annually for 3 years, catered to participants exploring alternative methods of both analog and digital photography, as well as other mixed media art exercises. Most recently, Sarah taught a class on Holga photography for KCDC and Exposed DC, after which one of her students won an award for an image created during that class. http://knowledgecommonsdc.org/ Sarah Hodzic joined Society6 on April 29, 2016
More
By trade I am a chef and photographer. After running my own catering business from 1997-2004, I traded in my chef gear for camera gear (a long time love of mine). I created my own photography company (Blink Photography - www.blinkdcc.com) in 2005 and am still shooting events nation wide. However, my artistic expression always felt a bit limited with the camera as my only tool. I once had a good friend express to me, after I found myself stumped with where to go next with my business as my energy and passion were waning, he turned to me one day and said, "Sarah you're an artist who has been using photography as her medium, but it's clear you need to keep your options open when it comes to how you want to create and express yourself." He was RIGHT!
So now here we are, it's 2016 and I have ventured into the world of illustration, acrylic painting and so on. I have been taking illustration classes online, I enrolled in abstract painting and figure drawing classes through the Smithsonian Associates program, which lead me to becoming a volunteer for that amazing arts organization, and I've hitting my local library hard to try and saturate my mind with all sorts of art, art practices, and instruction. So far it's been exciting, scary, frustrating, energizing and draining, but mostly, thrilling, and I am I just getting started!
The goal for my Society6 site is for this to be a place that holds me accountable to my creative practice and production. There is nothing more exciting to me than being able to share the work I create and see it in someone else's hands. Below you will find my "professional" photography bio, I've included it just for fun, thinking that it might be of some interest to see where my journey has lead me up to now.
If you've read this far, you're awesome! Please know that I welcome questions, comments, thoughts, and musings! Feel free to drop me a line anytime. Thank you.
Sarah Hodzic is a photographer and artist working in the Washington DC Metro area. She has been shooting professionally since 2005. Sarah's photography ranges from shooting corporate events, environmental portraiture, and weddings, to freelance photojournalism. She has provided professional photography for DC-area and national clients such as Honeywell, the Department of Heath and Human Services GLADD, NILMDTS, Operation USA, Raytheon, American University, Ventana Productions, Porter Novelli Australia, Cornell University CIPA, US-ASEAN Business Council and many other organizations.
Her work has been published in books and magazines across the country, and in 2011 she had a solo show in Los Angeles from her 2010 trip to Jacmel Haiti, where she covered the ground breaking of a new school for Honeywell International. Her work has also been featured in photography shows in Mississippi, Washington DC, and San Fransisco.
Sarah served as an instructor for art and photography classes from 2010 - 2015. She organized and hosted a retreat, Rebirth Workshops, in the Mississippi Delta with two other artist/photographers. The retreat, which occurred annually for 3 years, catered to participants exploring alternative methods of both analog and digital photography, as well as other mixed media art exercises.
Most recently, Sarah taught a class on Holga photography for KCDC and Exposed DC, after which one of her students won an award for an image created during that class. http://knowledgecommonsdc.org/
Sarah Hodzic joined Society6 on April 29, 2016.