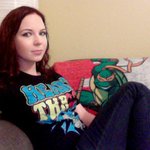 Sarah J
Sarah Johnson is an animator and artist from the rural Upper Peninsula of Michigan (you might need to Google Map it).
Her inspiration to be an artist stems from her lifelong love of the Teenage Mutant Ninja Turtles. Her discovery of TMNT comic books at the age of 11 would then lead to her great love of comic books and superheroes.
When not doodling, she enjoys watching Football, playing basketball, watching cartoons, fishing, hiking, or doing anything in the great outdoors.
Read more