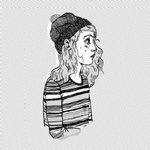 Sarah McNeil
Hello, I'm Sarah!
I completed my Bachelors Degree in Fine Art from Monash University, Melbourne, in 2007, and have been working full time as an artist and illustrator ever since. My paintings, art books, and illustration work have been exhibited and published in Canada, the U.S, the U.K, Australia, New Zealand and elsewhere around the world.
Most of my time is spent making art and objects, exploring nature, and travelling to discover new and interesting experiences. My work is inspired by my adventures, by taking time to notice the small details of things, and by the relationships of living things to natural and unnatural environments.
After living and working in Wellington, New Zealand for the past three years, I have recently moved to Melbourne, Australia, setting up my studio here to make as much art as possible and to decide on my next adventure.
I'm open to commissions and other sorts of art-related things, if you are interested in getting in touch with me, send me an email.
Alternatively, you can check out what I'm working on at my blog, on twitter, website, or various other places around the internet.
Read more
Sarah McNeil's Store
Filter