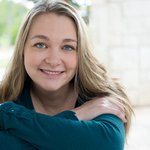 Sarah Ruh
Hello! I'm Sarah. I started designing t-shirts to help myself (and maybe you!) cope with the terrifying hellscape that is life in America in 2017. I wanted something snappy to wear while awaiting the impending apocalypse. You, too, can have one of these designs on a comfy t-shirt of your very own. You can also have most of these designs on mugs and notebooks and phone cases and even a shower curtain, I guess? I mean, sure, why not? Go wild. I'm also an artist of the more serious paint and canvas variety, so please do feel free to mosey on over to sarahruhart.com for all your Sarah Ruh art needs. Sarah Ruh joined Society6 on May 5, 2015
More
Hello! I'm Sarah. I started designing t-shirts to help myself (and maybe you!) cope with the terrifying hellscape that is life in America in 2017. I wanted something snappy to wear while awaiting the impending apocalypse. You, too, can have one of these designs on a comfy t-shirt of your very own.
You can also have most of these designs on mugs and notebooks and phone cases and even a shower curtain, I guess? I mean, sure, why not? Go wild.
I'm also an artist of the more serious paint and canvas variety, so please do feel free to mosey on over to sarahruhart.com for all your Sarah Ruh art needs.
Sarah Ruh joined Society6 on May 5, 2015.