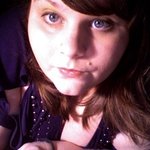 Sarah sadowski
Hello! I'm a photographer from Western Massachusetts, currently on a mission to reignite my passion for creating images. In 2010, I graduated from Montserrat College of Art. Since then, I've just been trying to get by like everyone else. I was introduced to this website by a friend, and it seems like a great way to make my images more accessible. I also have a blog that documents my photography adventures: http://sarahsadowskiphoto.wordpress.com/ If you see an image on my blog that you'd like to see available for purchase here, please feel free to contact me at sarahsadowski0@gmail.com! Sarah sadowski joined Society6 on September 1, 2014
More
Hello! I'm a photographer from Western Massachusetts, currently on a mission to reignite my passion for creating images. In 2010, I graduated from Montserrat College of Art. Since then, I've just been trying to get by like everyone else. I was introduced to this website by a friend, and it seems like a great way to make my images more accessible.
I also have a blog that documents my photography adventures: http://sarahsadowskiphoto.wordpress.com/
If you see an image on my blog that you'd like to see available for purchase here, please feel free to contact me at sarahsadowski0@gmail.com!
Sarah sadowski joined Society6 on September 1, 2014.