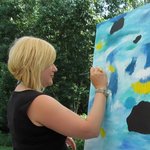 sarahsmile
Sarah Smile: Artist and Designer Sarah started her creative career as an interior decorator and home stager after studying Interior Design at The International Academy of Design in Toronto. Following 5 hectic years of residential design; Sarah decided to pursue her dream of an artist's life in the country. She chose the inspirational surroundings of Wasaga Beach, Ontario and made the move in 2009. Website http://www.sarahsmile.ca Facebook http://www.facebook.com/sarahsmileartcraftdesign Instagram http://www.instagram.com/sarahsmiledesign sarahsmile joined Society6 on August 10, 2014
More
Sarah Smile: Artist and Designer
Sarah started her creative career as an interior decorator and home stager after studying Interior Design at The International Academy of Design in Toronto.
Following 5 hectic years of residential design; Sarah decided to pursue her dream of an artist's life in the country. She chose the inspirational surroundings of Wasaga Beach, Ontario and made the move in 2009.
Website http://www.sarahsmile.ca
Facebook http://www.facebook.com/sarahsmileartcraftdesign
Instagram http://www.instagram.com/sarahsmiledesign
sarahsmile joined Society6 on August 10, 2014.