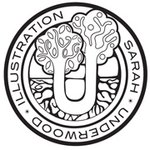 Sarah Underwood Illustration
I am a London based freelance illustrator specialising in children's books and editorial illustration and I am obsessed with drawing. My work is infused with inspiration from the natural world, be it colour, shapes or my love of animals and a little bit of childhood wonder. I regularly explore techniques using pattern and mainly use paint and watercolour pencils to create my work, which I then pull together in a digital format to create my final piece.
I am currently studying for my MA in children's book illustration at Anglia Ruskin in Cambridge and have a degree in illustration. I also regularly exhibit in London and sell work on Etsy, my shop is called Underthewoods.
I can reproduce anything in my portfolio in different sizes on different products such as mugs and cushions so if you have your eye on a particular piece just ask me and we'll see what we can do.
I hope you enjoy my work, if you do please feel free to tell Twitter and help me promote my wares.
All work is copyright Sarah Underwood 2015. Please do not use or reproduce without my consent!
Read more
Sarah Underwood Illustration's Store
Filter