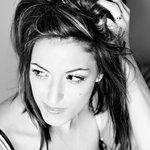 Sara Melody
Drawing since I was a little girl, I am now striving to become the professional artist I have always dreamed to be. Being an estranged Texas native, my art is my home, traveling with me wherever my military family is placed. All of my work is done by hand and designed by me out of my home studio office. I am now currently taking custom commissions ranging from portrait drawings to pop-art paintings. Most of my work that will be available for prints are among these commissioned art pieces. My goal is to serve your artistic needs to the very best of my abilities, being able to draw anything I see, and bring my art to a home near you! www.saramelodyart.com Sara Melody joined Society6 on June 22, 2013
More
Drawing since I was a little girl, I am now striving to become the professional artist I have always dreamed to be. Being an estranged Texas native, my art is my home, traveling with me wherever my military family is placed. All of my work is done by hand and designed by me out of my home studio office. I am now currently taking custom commissions ranging from portrait drawings to pop-art paintings. Most of my work that will be available for prints are among these commissioned art pieces. My goal is to serve your artistic needs to the very best of my abilities, being able to draw anything I see, and bring my art to a home near you!
www.saramelodyart.com
Sara Melody joined Society6 on June 22, 2013.