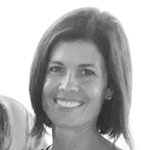 Sara Schroeder
I paint bright, vibrant art, relishing movement, color, and marks and exploring how they work together (and play against one another) in a conversation about our outward human life and our inner spiritual worlds. And sometimes they're just fun. ;)
These beautiful bits of MERCH will be available for the holiday season and just a little beyond (in case you're the lucky recipient of a gift card!), so make sure to purchase between now and the end of January 2022 - at which time I'll be switching things over.
Find original paintings, limited edition prints, and studio updates at www.saraschroederart.com
Find daily updates on Instagram @saraschroederart
Find projects and works in progress at www.behance.net/saraschroeder1
Find more social connection on www.Vero.co @saraschroeoder
You can also email me at saraschroederart@gmail.com for a list of available pieces.
---
Sara Schroeder is an artist and mom of 4, living and working in Miami, Florida with her husband and kids. Her favorite things to paint are large, intuitive abstracts on canvas, using acrylic paints and all kinds of medias to spice things up.
Read more