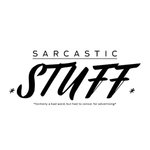 SarcasticStuff
If you're at all like me, you'll understand that sarcasm is the funniest form of humor. I just wanted to connect with all my fellow sarcasm enthusiasts and create funny & witty products to carry and display throughout your creative space. I hope that you can work alongside me to create funny, unique, and totally relatable pieces for you to sport in your daily life and join the fight to make sarcasm great again. :) SarcasticStuff joined Society6 on December 6, 2016
More
If you're at all like me, you'll understand that sarcasm is the funniest form of humor. I just wanted to connect with all my fellow sarcasm enthusiasts and create funny & witty products to carry and display throughout your creative space.
I hope that you can work alongside me to create funny, unique, and totally relatable pieces for you to sport in your daily life and join the fight to make sarcasm great again. :)
SarcasticStuff joined Society6 on December 6, 2016.