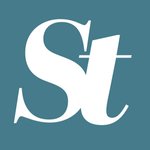 sareytales
Sarey Ruden is a graphic designer from Detroit, MI. After years of online dating disasters, she became inspired to turn all the creepy, cruel and often funny text messages she receives into works of art called Sareytales. Follow me @sareytales on Instragram and Twitter for daily stories. Submit your creepy texts to be a featured Sareytales Downloadable poster jpgs, original coasters and greetings cards can be purchased at my estyshop. sareytales joined Society6 on November 7, 2016
More
Sarey Ruden is a graphic designer from Detroit, MI. After years of online dating disasters, she became inspired to turn all the creepy, cruel and often funny text messages she receives into works of art called Sareytales.
Follow me @sareytales on Instragram and Twitter for daily stories.
Submit your creepy texts to be a featured Sareytales
Downloadable poster jpgs, original coasters and greetings cards can be purchased at my estyshop.
sareytales joined Society6 on November 7, 2016.