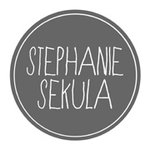 Stephanie Sekula
Stephanie specialises in animal and childrens book illustration, and enjoys turning her hand to traditional forms of media; working predominantly in pencils and acrylic paints. Stephanie Sekula is a freelance illustrator and artist from Birmingham, UK. During her university studies and placements within the industry she has learnt a great deal about building up a valuable skill set. She is proficient in much of the Adobe Suite as well as dabbling with web design. Stephanie has exhibited work around the UK and also in China whilst spending time as an exchange student at Central South university in Changsha. Stephanie Sekula joined Society6 on March 20, 2013
More
Stephanie specialises in animal and childrens book illustration, and enjoys turning her hand to traditional forms of media; working predominantly in pencils and acrylic paints. Stephanie Sekula is a freelance illustrator and artist from Birmingham, UK.
During her university studies and placements within the industry she has learnt a great deal about building up a valuable skill set. She is proficient in much of the Adobe Suite as well as dabbling with web design. Stephanie has exhibited work around the UK and also in China whilst spending time as an exchange student at Central South university in Changsha.
Stephanie Sekula joined Society6 on March 20, 2013.