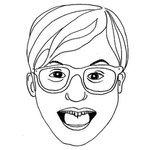 Sashmograph
I'm a web developer, multidisciplinary designer, and business owner by day; painter, illustrator & introvert by night.
All the drawings and painting you see in my store are my diversions after a long day of work.
30% of all proceeds go to support organizations that are doing good work out there and trying to make the world a better place. Non-profits, charities, cause-based orgs.
If you want to learn more about why I decided to donate and who is the current organization that I'm collecting for please visit the "Posts" area.
Instagram - https://www.instagram.com/sashmograph/ Facebook - https://www.facebook.com/sashmograph/
Read more