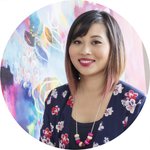 Brenda Mangalore
I'm an Artist, Designer, Dreamer, Doodler, Durian lover and Jelly's mum.
I've always had a love affair with the visual world, with a deep passion for colour and light. I am interested in the truth, our inner emotional landscapes and practicing living a life that is both fully present AND full of faith. I believe that we should surround ourselves only with things that are immensely useful or beautiful. There is so much beauty in this life, we should embrace it completely — including the lessons & the painful scary. My calling is to create art that sing to you the way my favourite artworks sing to me. It's like they have hit this divine chord that strikes the same song in your heart and you are filled with such connection & sublime happiness that goes beyond words.
All in partnership and intimate relationship with the divine — God, Jesus & Spirit. I love all three. Beautiful art & great design (especially beautiful fonts) + poetic stories makes me swoon.
---
I paint multi layered, mostly abstract, acrylic paintings.
Sometimes my paintings are a whisper of colour, soul & imagination, inviting you to explore and discover hidden details. Sometimes they are a chaotic struggle as the abstract nature battle with organic & figurative forms.
My work is shaped by change, experimentation & questions raised in my musings & meditations on life and our inner landscape. The depth and subtlety of colours, play of pattern and detail are born from my past as a designer; consciously designed to evoke visual & emotional reactions.
On the other hand, I also strive to allow intuition and the inspiration of the moment to take over. Life is a dance of chaos and (attempts of) control - gifting us our unique perspectives which add a richer tapestry of experience to our inner landscape. This dance is reflected in my practice to allow the painting to emerge naturally, surrendering to surprising changes along the way. Like a memory of a dream filtered by emotions & intuition.
Layering free flowing colour with organic shapes and symbols means the process of creation is another facet of the story. A story of change and the capriciousness of life, while still seeking windows of understanding or just pockets to contain the chaos.
My love of detail can also be found hidden in my works, like the whispers from our inner voice, reserved only for those who pause to have a closer look.
My drawings are also the result of free-form intuition working with my trained desire for planned design. The intricate abstract details are drawn freely, purely from a semi-subconscious level; a mirror of the exploration and meditations in my painting practice. These abstract lines also seek some containment among the chaos by forming the silhouette of recognisable shapes in letter-forms. Consciously and thoughtfully designed with typography and hand lettering to inspire & encourage the viewer. Providing relief with a direct message among the chaos of detail and secret whispers among the abstract details.
Read more
Brenda Mangalore's Store
Filter