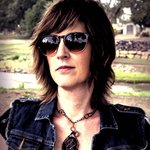 Saturnal Creations by Melanie Maslaniec
Thank you for your interest in my work. I live in Western Manitoba with my husband and dog in an old Victorian home. I am a Jewellery designer and photographic and print artist. I also enjoy writing stories and poetry. I love experimenting with colors and often can picture my pictures in different settings. I like making abstract works that have a pattern to them. I hope that my art will inspire and resonate with others, and that people will have fun incorporating my designs in their living spaces. Saturnal Creations by Melanie Maslaniec joined Society6 on September 22, 2018
More
Thank you for your interest in my work. I live in Western Manitoba with my husband and dog in an old Victorian home. I am a Jewellery designer and photographic and print artist. I also enjoy writing stories and poetry.
I love experimenting with colors and often can picture my pictures in different settings. I like making abstract works that have a pattern to them.
I hope that my art will inspire and resonate with others, and that people will have fun incorporating my designs in their living spaces.
Saturnal Creations by Melanie Maslaniec joined Society6 on September 22, 2018.