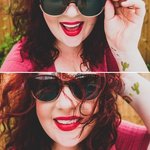 Savannah Smiled
I'm a twenty-something proud millennial with a passion for creativity, an undeniable deep East Texas southern accent, daydreams of palm trees by the ocean and fifty shades of box-dyed faux red hair. I work full time in communications as a public school digital storyteller. While I'm out of the office, I'm photographing some of my most favorite things - breakfast foods, holiday festivities and sightseeing travels. Here is where I share those images with you! Savannah Smiled joined Society6 on October 13, 2017
More
I'm a twenty-something proud millennial with a passion for creativity, an undeniable deep East Texas southern accent, daydreams of palm trees by the ocean and fifty shades of box-dyed faux red hair.
I work full time in communications as a public school digital storyteller. While I'm out of the office, I'm photographing some of my most favorite things - breakfast foods, holiday festivities and sightseeing travels. Here is where I share those images with you!
Savannah Smiled joined Society6 on October 13, 2017.
Savannah Smiled's Store
100 results
Filter