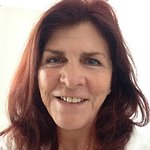 Savyra Meyer-Lippold
I always knew that one day I'd be an artist. What I drew was the same portrait over and over, as taught to me by one of my mother's boarders, 'Tannie Bettie'. She drew me a face on my blackboard one day. I copied it closely. The portraits had golf-club eyebrows and wagon-wheel irises and I was very proud of them. It's often struck me since, how much it can mean to a child when someone bothers to spend just a few minutes making them happy. You just never know what you've set into motion! Finally – high school, where there was a Real Art Teacher. Soon I was drawing my fellow boarders for the large sum of 10c each. Art was the highlight of my week, and the only thing I really, really missed when I dropped out of school. My mother shelved her dreams for me of becoming a designer of any kind and after a circuitous route through: my first job at the local telephone exchange in Winterton marriage three sons achieving a Matric and honing my design/illustration skills via distance learning including a few years with UNISA a job in a bank and abandoning UNISA… ('Giving up is often harder than carrying on and killing yourself', confided my brother Woody) being asked to illustrate their training manuals my first exhibition of pencil drawings in the library with my ex art teacher a move to the big city of Durban followed by an introduction to a guy with a backyard studio where I learned about studios and their workings hawking my cartoon samples from the bank's training manuals to local ad agencies and magazines subsequent full-time employment with various agencies getting a computer and starting my own freelance business divorce, and finally ~ a move to Cape Town………. I can live the dream of working for myself and drawing all day long. Could life be any better? Oh yes it could – two years ago I met the right man and my life is more blissful than I could ever have dreamed. 'I got there in the end', I tell that little girl from the dusty village. 'Took a while though', she says. Savyra Meyer-Lippold joined Society6 on February 5, 2014
More
I always knew that one day I'd be an artist.
What I drew was the same portrait over and over, as taught to me by one of my mother's boarders, 'Tannie Bettie'. She drew me a face on my blackboard one day. I copied it closely. The portraits had golf-club eyebrows and wagon-wheel irises and I was very proud of them. It's often struck me since, how much it can mean to a child when someone bothers to spend just a few minutes making them happy. You just never know what you've set into motion!
Finally – high school, where there was a Real Art Teacher. Soon I was drawing my fellow boarders for the large sum of 10c each. Art was the highlight of my week, and the only thing I really, really missed when I dropped out of school.
My mother shelved her dreams for me of becoming a designer of any kind and after a circuitous route through:
my first job at the local telephone exchange in Winterton marriage three sons achieving a Matric and honing my design/illustration skills via distance learning including a few years with UNISA a job in a bank and abandoning UNISA… ('Giving up is often harder than carrying on and killing yourself', confided my brother Woody) being asked to illustrate their training manuals my first exhibition of pencil drawings in the library with my ex art teacher a move to the big city of Durban followed by an introduction to a guy with a backyard studio where I learned about studios and their workings hawking my cartoon samples from the bank's training manuals to local ad agencies and magazines subsequent full-time employment with various agencies getting a computer and starting my own freelance business divorce, and finally ~ a move to Cape Town………. I can live the dream of working for myself and drawing all day long.
Could life be any better? Oh yes it could – two years ago I met the right man and my life is more blissful than I could ever have dreamed.
'I got there in the end', I tell that little girl from the dusty village.
'Took a while though', she says.
Savyra Meyer-Lippold joined Society6 on February 5, 2014.
Savyra Meyer-Lippold's Store
65 results
Filter