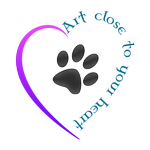 Art close to your heart
Fiona was born near Edinburgh and during her early teens moved to England. There were many years before Fiona was able to return to her beloved Scotland and now live in the West Highlands where she is inspired every day by the beautiful landscape that surrounds her.
Her love of Art started at a very young age Fiona would paint and draw on anything that sat still long enough. However, it was many years before she could make her dream become a reality; Today Fiona with the help of her husband Armando run workshops and Classes in all mediums of art, Armando looks after the Admin side of things and websites, this enables Fiona to concentrate on her creativity and Teaching.
Fiona is fully conversant in all styles in arts and crafts, she has specialised Training with DecoArt in Decorative Painting & Folk Art, also qualified in The USA as an OSCI instructor.
However, Fiona says "my heart lies with pastel painting on velour of Wildlife animals and I specialise in pet portraiture."
www.artclosetoyourheart.com
Read more
Art close to your heart's Store
Filter