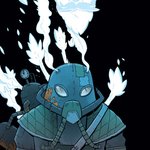 Scott Hallett
Comic creator & Illustrator with short stories in Fablewood and the Harvey & Eisner winning Popgun. Currently residing just west of the largest city in Canada. Spent a good portion of his childhood believing one day he'd grow up to be Batman. Not 100% convinced it's still not true. Scott Hallett joined Society6 on September 3, 2014
More
Comic creator & Illustrator with short stories in Fablewood and the Harvey & Eisner winning Popgun. Currently residing just west of the largest city in Canada.
Spent a good portion of his childhood believing one day he'd grow up to be Batman. Not 100% convinced it's still not true.
Scott Hallett joined Society6 on September 3, 2014.