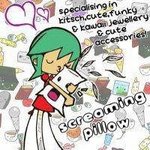 Screamingpillow
Screamingpillow started out in 2009 at a little market stall in glasgow. We only had 11 items on the stall at that time. We evolved into creating our own jewellery and selling cute kawaii acessories and plushies, and are evolving even more by creating our own designs and getting them onto everything which you can see in my cute redbubble shop. If you love anything cute and kawaii then you will find something that you love here. Our artwork of screamingpillow was created by (THEME). LOVE CUTE LOVE SCREAMINGPILLOW Screamingpillow joined Society6 on June 11, 2016
More
Screamingpillow started out in 2009 at a little market stall in glasgow. We only had 11 items on the stall at that time. We evolved into creating our own jewellery and selling cute kawaii acessories and plushies, and are evolving even more by creating our own designs and getting them onto everything which you can see in my cute redbubble shop. If you love anything cute and kawaii then you will find something that you love here. Our artwork of screamingpillow was created by (THEME).
LOVE CUTE LOVE SCREAMINGPILLOW
Screamingpillow joined Society6 on June 11, 2016.
Screamingpillow's Store
18 results
Filter