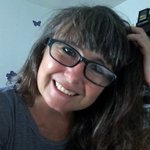 S.D. Ferrell
Hello and welcome to my studio. By day I am the author of The Whipple Wash Chronicles, a fantasy adventure series for readers of all ages. By night, and whenever I have writer's block, I am a mixed media artist. Over the years I have dabbled with a wide spectrum of artistic medias such as: paint, fabric, recycled material, wood, silk & dried flowers, stone, moss, and bark chips. Lately, I have been playing with photographs that I have taken over the years. Some of the subjects are of places that I have lived or visited, and others are art pieces (Old and new) that I have created. I load the pictures onto my computer and play with the colour, add artistic effects, and with some, I mix in a word or two or more. The Briers Edge, is the name I affectionately call my workroom. Thank you for visiting my studio. Please like and share my work, and I will return the favor. Enjoy the day! S.D. briersedge@gmail.com https://www.facebook.com/thebriersedge/ S.D. Ferrell joined Society6 on January 19, 2017
More
Hello and welcome to my studio.
By day I am the author of The Whipple Wash Chronicles, a fantasy adventure series for readers of all ages. By night, and whenever I have writer's block, I am a mixed media artist. Over the years I have dabbled with a wide spectrum of artistic medias such as: paint, fabric, recycled material, wood, silk & dried flowers, stone, moss, and bark chips.
Lately, I have been playing with photographs that I have taken over the years. Some of the subjects are of places that I have lived or visited, and others are art pieces (Old and new) that I have created. I load the pictures onto my computer and play with the colour, add artistic effects, and with some, I mix in a word or two or more.
The Briers Edge, is the name I affectionately call my workroom. Thank you for visiting my studio. Please like and share my work, and I will return the favor.
Enjoy the day! S.D.
briersedge@gmail.com
https://www.facebook.com/thebriersedge/
S.D. Ferrell joined Society6 on January 19, 2017.