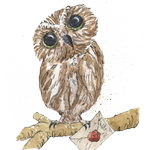 Sean Greenberg Illustration
Sean Greenberg is a Hamilton, Ontario based freelance artist and Sheridan Illustration graduate. Inspired by graphic novels, films, sci-fi and fantasy and his own imagination, Sean uses ink and watercolour to provide a new perspective on the ordinary and lets his imagination come to life in humorous and fantastical paintings, some of which are from his recently published graphic/illustrated novel, The Beacon of Emshire: Chapter I.
To view Sean's portfolio, please visit http://seangreenberg.prosite.com.
Read more