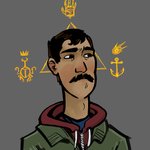 Sean K Sutter
Sean K Sutter is an artist and illustrator working and living in Northern California. He currently resides in Davis Ca, with his beautiful wife and daughter. Mr. Sutter studied painting at Humboldt State University, and holds his bachelors degree in Studio Art. His professional experience includes book illustration and graphic design. Visit: www.SeanKSutter.com Sean K Sutter joined Society6 on July 26, 2013
More
Sean K Sutter is an artist and illustrator working and living in Northern California. He currently resides in Davis Ca, with his beautiful wife and daughter.
Mr. Sutter studied painting at Humboldt State University, and holds his bachelors degree in Studio Art.
His professional experience includes book illustration and graphic design.
Visit: www.SeanKSutter.com
Sean K Sutter joined Society6 on July 26, 2013.
Sean K Sutter's Store
107 results
Filter