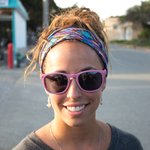 2Humans1Pooche
Dog lover. Bohemian at heart with an unleashed imagination. Born & raised in the French culture of Montréal, Canada, I decided one day to pack my bags and set sail to roam the world. A couple of countries later, and with a newfound love of the ocean, I returned to Canada with a surfboard in hand, this time settling down in the small coastal town of Ucluelet, British Columbia on Vancouver Island. My versatility brought me knowledge and practices in many different fields as a graphic artist: Photography, Graphic Design and Visual Content Creation. For my online portfolio: www.melinalamoureux.com 2Humans1Pooche joined Society6 on September 13, 2016
More
Dog lover. Bohemian at heart with an unleashed imagination. Born & raised in the French culture of Montréal, Canada, I decided one day to pack my bags and set sail to roam the world. A couple of countries later, and with a newfound love of the ocean, I returned to Canada with a surfboard in hand, this time settling down in the small coastal town of Ucluelet, British Columbia on Vancouver Island. My versatility brought me knowledge and practices in many different fields as a graphic artist: Photography, Graphic Design and Visual Content Creation.
For my online portfolio: www.melinalamoureux.com
2Humans1Pooche joined Society6 on September 13, 2016.
2Humans1Pooche's Store
158 results
Filter