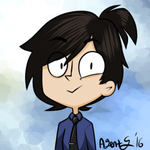 SecretagentG
heeeeeyyyy Just a college student preparing for the fabled brokeness that comes with the gig. I do a lot of fanart stuff, like Supernatural. I'm also on tumblr and deviantArt, where you can find my other (non-print) art! My tumblr (mostly reblogs and feels, beware): http://secretagentg.tumblr.com/ My deviantArt (pretty inactive tho, just sayin'): http://secretagentg.deviantart.com/ SecretagentG joined Society6 on January 7, 2016
More
heeeeeyyyy
Just a college student preparing for the fabled brokeness that comes with the gig. I do a lot of fanart stuff, like Supernatural. I'm also on tumblr and deviantArt, where you can find my other (non-print) art!
My tumblr (mostly reblogs and feels, beware): http://secretagentg.tumblr.com/ My deviantArt (pretty inactive tho, just sayin'): http://secretagentg.deviantart.com/
SecretagentG joined Society6 on January 7, 2016.
Long Sleeve Tshirts by SecretagentG
5 results
Filter
Products

Long Sleeve T-Shirts