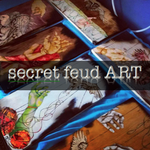 Secret Feud Art
It began in State College, Pennsylvania, during the spring of 1991. A child was born, named after a dog and set loose on the world. And now? Samantha is a New Orleans based artist and performer. Some call it creepy... Others poetic... I call it SECRET FEUD ART. From the time I began to achieve basic motor skills as a child (a feat yet to be mastered) I have had an obsession with the language of hands. Not sign-language, but the stories written in the lines, calluses, meat and bone of the human claw. This obsession is most certainly rooted in my father's use of his guitar case as a makeshift playpen when I was a child. He would plop me down in that soft mustard fluff interior and play. For hours a day, I would watch my father's thick, gnarled hands and long fingernails caress his instrument, creating a delicate sound in such opposition to their physical appearance, that I began to associate beauty with the otherwise unremarkable, or ugly even. Hands build, paint, draw, operate machinery, play instruments, destroy, caress... Hands are the incarnations of the secret feud between natural beauty and human creation; between the real and the imagined; between work and play. This is what I aim to reflect in my work. The symbiosis of contradicting forms and ideas. Secret Feud Art joined Society6 on August 16, 2014
More
It began in State College, Pennsylvania, during the spring of 1991. A child was born, named after a dog and set loose on the world. And now? Samantha is a New Orleans based artist and performer.
Some call it creepy... Others poetic... I call it SECRET FEUD ART.
From the time I began to achieve basic motor skills as a child (a feat yet to be mastered) I have had an obsession with the language of hands. Not sign-language, but the stories written in the lines, calluses, meat and bone of the human claw. This obsession is most certainly rooted in my father's use of his guitar case as a makeshift playpen when I was a child. He would plop me down in that soft mustard fluff interior and play. For hours a day, I would watch my father's thick, gnarled hands and long fingernails caress his instrument, creating a delicate sound in such opposition to their physical appearance, that I began to associate beauty with the otherwise unremarkable, or ugly even.
Hands build, paint, draw, operate machinery, play instruments, destroy, caress... Hands are the incarnations of the secret feud between natural beauty and human creation; between the real and the imagined; between work and play. This is what I aim to reflect in my work.
The symbiosis of contradicting forms and ideas.
Secret Feud Art joined Society6 on August 16, 2014.
Secret Feud Art's Store
83 results
Filter