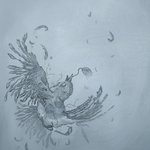 See Laura Draw. - Arts by Laura Cosner
I'm Laura Cosner, a Los Angeles based artist working in a variety of different types of media. I work in all sorts of styles, from photoreal to illustrative, and often move between them based on the content I'm working with. You can find me in downtown LA once a month at the Hive Gallery and Studios, where I put things on the wall.
I'm obsessed with mythology, comparative religions, the inside of things, victoriana, birds and flying pygmy elephants.
I also have a dog named Calliope, who approves this message.
Read more
See Laura Draw. Arts by Laura Cosner's Store
Filter
See Laura Draw. Arts by Laura Cosner's Store