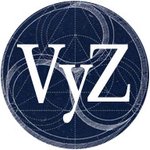 See the Music
The artwork comes from the SEE THE MUSIC - FREEDOM DVD (2016) by the musical group, VyZ, where the visuals flow in perfect synch with the music thanks to the amazing Aeon Visualizer by SoundSpectrum. "VyZ" is all about improVyZed, spontaneous music... music performed freely in the moment... no rehearsing... no writing songs... just the pure, uninhibited sound created on the spot... not to mention, the sheer joy of playing with an amazing group of talented musicians: Rich Damone on bass; Charlie Tokarz on flute/sax/ewi; John Pritchard on drums/keys/visuals; and this is the fourth time Miles Davis keyboardist, Adam Holzman, has been a special guest on our music/DVD projects. Visit vyzmovies.com for more info. As a multimedia band, we began playing together in the spring of 2003. The group has always had a cinematic quality to our sound and the "music for movies" slogan quickly became a way to classify the VyZ style. While initially experimenting with SoundSpectrum's G-force music visualization software, the group soon began to include movies from the Prelinger Film Archive, NASA, and the Library of Congress. VyZ has previously produced three "Music for Movies" DVDs: UNUM (2003), NOVUS (2004), and STAR CYCLES (2006). See the Music joined Society6 on July 8, 2016
More
The artwork comes from the SEE THE MUSIC - FREEDOM DVD (2016) by the musical group, VyZ, where the visuals flow in perfect synch with the music thanks to the amazing Aeon Visualizer by SoundSpectrum. "VyZ" is all about improVyZed, spontaneous music... music performed freely in the moment... no rehearsing... no writing songs... just the pure, uninhibited sound created on the spot... not to mention, the sheer joy of playing with an amazing group of talented musicians: Rich Damone on bass; Charlie Tokarz on flute/sax/ewi; John Pritchard on drums/keys/visuals; and this is the fourth time Miles Davis keyboardist, Adam Holzman, has been a special guest on our music/DVD projects. Visit vyzmovies.com for more info.
As a multimedia band, we began playing together in the spring of 2003. The group has always had a cinematic quality to our sound and the "music for movies" slogan quickly became a way to classify the VyZ style. While initially experimenting with SoundSpectrum's G-force music visualization software, the group soon began to include movies from the Prelinger Film Archive, NASA, and the Library of Congress.
VyZ has previously produced three "Music for Movies" DVDs: UNUM (2003), NOVUS (2004), and STAR CYCLES (2006).
See the Music joined Society6 on July 8, 2016.