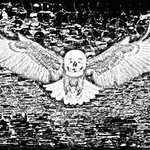 SeethingDesigns
Seething Designs is a collection of original fine artworks created by Kory G. Cordier. I work in a variety of mediums including from Ink, graphite, oil pastels, gunpowder, and digital works. My pieces reflect a variety of subjects including degradation of memory, inner personal fears, destruction, personal loss, and a host of other abstract works created with no particular purpose than the purely meditative properties of each piece that I enjoy during their creation and their ability to refocus my mind and energies on a day to day basis. SeethingDesigns joined Society6 on April 6, 2016
More
Seething Designs is a collection of original fine artworks created by Kory G. Cordier.
I work in a variety of mediums including from Ink, graphite, oil pastels, gunpowder, and digital works.
My pieces reflect a variety of subjects including degradation of memory, inner personal fears, destruction, personal loss, and a host of other abstract works created with no particular purpose than the purely meditative properties of each piece that I enjoy during their creation and their ability to refocus my mind and energies on a day to day basis.
SeethingDesigns joined Society6 on April 6, 2016.