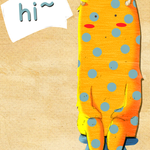 Seez
An artist with alot of story to share in his mind of wonder, with a world of no limitation. The only way to show is to put the image of my world on to a paper for people to share, enjoy my world and hope you will like it. Most importantly end of the day "Be happy" if you have any idea for me can alway drop me a email Email: seez.lim@gmail.com Instagram: Seez_Lim Seez joined Society6 on March 17, 2013
More
An artist with alot of story to share in his mind of wonder, with a world of no limitation. The only way to show is to put the image of my world on to a paper for people to share, enjoy my world and hope you will like it. Most importantly end of the day "Be happy"
if you have any idea for me can alway drop me a email Email: seez.lim@gmail.com Instagram: Seez_Lim
Seez joined Society6 on March 17, 2013.