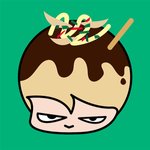 sekinefoods
Hello!! I am a graphic designer to work in Japan . My art of theme is " Japanese food " Brand name is " Sekine food " . It will deliver the truth of Japanese food in the world . Delivers favorite Japanese appeal to people around the world . Character of the name is "TABE-chan". Copyright note: The images may not be copied, reproduced, manipulated or used in any way, without written permission. #illustration #digital #graphic-design #pop-art #Japanese #foods #Japan sekinefoods joined Society6 on April 25, 2016
More
Hello!! I am a graphic designer to work in Japan .
My art of theme is " Japanese food " Brand name is " Sekine food " .
It will deliver the truth of Japanese food in the world . Delivers favorite Japanese appeal to people around the world .
Character of the name is "TABE-chan".
Copyright note: The images may not be copied, reproduced, manipulated or used in any way, without written permission.
#illustration #digital #graphic-design #pop-art #Japanese #foods #Japan
sekinefoods joined Society6 on April 25, 2016.