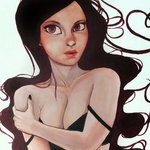 Shayna Hall
Shayna Hall - www.shaynahallart.wordpress.com Texas born and Montreal inspired, boasts a multitude of talents in media and art. Years of portraiture, graphic/web design, comics and film editing experience are accompanied by immense focus and dedication. Shayna brings her prodigious artistic sense and her refreshingly unique perspective to each project. Shayna Hall joined Society6 on February 16, 2015
More
Shayna Hall - www.shaynahallart.wordpress.com
Texas born and Montreal inspired, boasts a multitude of talents in media and art. Years of portraiture, graphic/web design, comics and film editing experience are accompanied by immense focus and dedication.
Shayna brings her prodigious artistic sense and her refreshingly unique perspective to each project.
Shayna Hall joined Society6 on February 16, 2015.