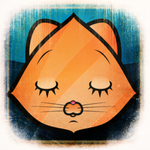 Sen Powell
My name is Sen and I work as a freelance illustrator/animator. Currently living near Brussels, the capitol of Europe. I graduated in 2009 as a master in traditional animation, but, not feeling satisfied with just doing animation, I took on illustration as well. I'm always looking for new challenges. Now I mostly work on making illustrations, flash animations and motion graphics. Greets S. Sen Powell joined Society6 on June 27, 2012
More
My name is Sen and I work as a freelance illustrator/animator. Currently living near Brussels, the capitol of Europe. I graduated in 2009 as a master in traditional animation, but, not feeling satisfied with just doing animation, I took on illustration as well. I'm always looking for new challenges.
Now I mostly work on making illustrations, flash animations and motion graphics.
Greets
S.
Sen Powell joined Society6 on June 27, 2012.
Sen Powell's Store
142 results
Filter