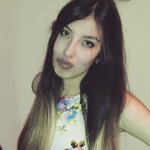 Serene Winter
Hi! My name is Winter. I'm a 23 year old graphic design graduate with an Associates degree in Graphic Communications (A.A.S.). I enjoy spending my free time making art, experimenting with different medias, and being creative. All art posted are originals done by me - Serene Winter contact me at serenewinter@yahoo.com for any questions www.serenewinter.com twitter: http://www.twitter.com/serenexwinter art instagram: serenewinterart personal instagram: http://www.instagram.com/serenewinter facebook: http://www.facebook.com/serenewinterart etsy shop: http://www.etsy.com/shop/serenewinterart Serene Winter joined Society6 on April 16, 2015
More
Hi! My name is Winter. I'm a 23 year old graphic design graduate with an Associates degree in Graphic Communications (A.A.S.).
I enjoy spending my free time making art, experimenting with different medias, and being creative.
All art posted are originals done by me - Serene Winter contact me at serenewinter@yahoo.com for any questions
www.serenewinter.com twitter: http://www.twitter.com/serenexwinter art instagram: serenewinterart personal instagram: http://www.instagram.com/serenewinter facebook: http://www.facebook.com/serenewinterart etsy shop: http://www.etsy.com/shop/serenewinterart
Serene Winter joined Society6 on April 16, 2015.